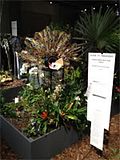 The Haddonfield Garden Club was founded in 1906, and became a charter member of the New Jersey Garden Club in 1927.

For more than one hundred years HGC has been involved in community projects, and in the education of its members relating to gardening, design, horticulture and the environment. The total number of members is 88. There are 63 active members and 25 inactive members.

Most of our meetings are open to the general public. Announcements of meetings are posted in local newspapers, and also on this website. (Please see calendar page.)

Interested in becoming a member?
Our talents and interest vary from flower arranging to horticulture to decorating. There is something for everyone. Come join us. (For more information, please contact us.)


OUR MISSION STATEMENT
(From our Bylaws)
""The object of the Haddonfield Garden Club is to encourage an interest in all aspects of gardening, horticulture and artistic use of plant material; to promote the study of nature and the environment; and to participate in related community projects."

CLUB OFFICERS 2013 - 2014
President.........................Josephine Pecorelli
Vice President..................Lorrie Hart
Treasurer........................Mary Reilly
Recording Secretary..........Kathy Callan
Corresponding Secretary....Mary Stewart

PRESIDENT'S MESSAGE
The Haddonfield Garden club was founded in June 1906 with 12 members present. Now it's 2013 and the Haddonfield Garden Club is 107 years old with 88 members. The Club has always been involved helping to keep Haddonfield a beautiful town to live in and visit. Planting flowers and rose buses at the raileroad station was an early project and now we care for pocket gardens, urns and hanging baskets along Kings Highway. We have a wonderful history to maintain and we are proud of the many civic improvements Haddonfieeld Garden Club has contributed to our town. I look forward to our club fostering knowledge and a love of gardening along with the preservation of trees, birds and flowers. I am fortunate to have the opportunity to work with a very talendted and dedicated group of Board members.
Thank you for electing me to serve as your President.
Jo Pecorelli
Visitor counter
Installed 8/6/08
13,376
Third place ribbon in the "Mailbox" category at the 2012 Philadelphia International Flower Show