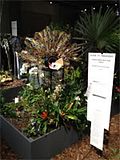 The Haddonfield Garden Club was founded in 1906, and became a charter member of the New Jersey Garden Club in 1927.

For more than one hundred years HGC has been involved in community projects, and in the education of its members relating to gardening, design, horticulture and the environment. The total number of members is 88. There are 63 active members and 25 inactive members.

Most of our meetings are open to the general public. Announcements of meetings are posted in local newspapers, and also on this website. (Please see calendar page.)

Interested in becoming a member?
Our talents and interest vary from flower arranging to horticulture to decorating. There is something for everyone. Come join us. (For more information, please contact us.)


OUR MISSION STATEMENT
(From our Bylaws)
""The object of the Haddonfield Garden Club is to encourage an interest in all aspects of gardening, horticulture and artistic use of plant material; to promote the study of nature and the environment; and to participate in related community projects."

CLUB OFFICERS 2015 - 2016
| | |
| --- | --- |
| President........................ | Doug Rauschenberger |
| Vice President.................. | Christine Courtney |
| Treasurer........................ | Bobbie Schmidt |
| Recording Secretary.......... | Jo Pecorelli |
| Corresponding Secretary..... | Glenna Huls |

PRESIDENT'S MESSAGE
Welcome to the Haddonfield Garden Club's 2015-2016 year. I look forward to working with everyone to have a productive and enjoyable year. I am very aware we are part of continuum of a proud and important community organization – 2016 marks our 110th year.
Another anniversary that will be marked in 2016 is the 100th anniversary of Evans and Hopkins Ponds becoming public parkland. The foresightedness of Haddonfield residents, who voted to save these important natural resources, soon led to the formation of the extensive Camden County park system.
The Haddonfield Garden Club in its early days recognized Hopkins Pond as an environmental treasure -- a sanctuary for birds and native wildflowers. I would like the Garden Club to lead a project to greatly reduce the invasive species in the park around Hopkins Pond, to give this beautiful spot a fresh start for its second century.
The other major project for the upcoming year will be the Bette Powell Memorial Garden. The Garden Club originally planned and has lovingly maintained the lovely garden at the Interfaith Caregivers building behind Borough Hall for about 10 years. Some of the garden recently was taken out because of an emergency gas leak; the main entrance to the building has changed since the inception of the garden. With these changes, it is time to redesign, replant and rededicate this garden in memory of our longtime member.
For the first time in three years, we once again will decorate the Indian King for the holiday season and host the joint meeting with the Moorestown and Pinelands Garden Clubs.
Add our many important ongoing projects and wonderful programs and we have a very exciting year ahead. I look forward to the journey!
Doug Rauschenberger